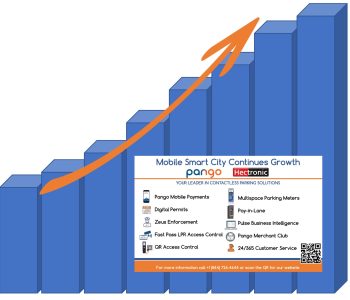 Mobile Smart City a privately owned corporation, is proud to announce continued growth for 36 straight months with their Pango and Hectronic solutions. "We have seen continued growth despite the effect of COVID" stated John J. Incandela, President, and CEO; "MSC was and is positioned to provide proven affective contactless solutions and strong Business intelligence to our partner locations. Our solution platform can combine and offer a complete parking management system as needed. Our forecast for growth will continue, with new locations and organic growth."

Mobile Smart City has been investing in the future, thinking ahead of existing parking and access control needs. A new convergent state-of-the-art parking platform has been designed and developed, providing a true and an integrated parking management offering: On-Street parking inventory and Off-Street garages can now be managed by a single platform. All-in-one parking digital cloud, providing different access control alternatives to the users, such as QR, automatic LPR, digital permits, and electronic ticketing. Municipalities, universities, airports, and property managers are now using the new technology which simplifies the management and operation of their assets, adding significant cost savings to their bottom line, since they don't need to deal with different parking platforms or different vendors anymore.

Luis Garma, the Chairman of MSC, which is headquartered in Fort Lauderdale and currently has a regional office in Maryland and Europe, Mr. Garma states that "MSC is now poised to see rapid growth of innovative solutions, create trends, as well as develop new state of the art software within our company team. We have a strong and aggressive IT & Development team, along with a Customer Care Call Center, and an effective operational support for our partner locations."

About Mobile Smart City
Mobile Smart City is an international tech company specialized in developing and implementing digital solutions for Smart Cities. Founded in 2015, the company is headquartered in Fort Lauderdale, FL, with a regional office in Maryland, and operations in several countries: North America, South America, the Caribbean, and Europe. Mobile Smart City holds a wide experience in the design, development, implementation, and maintenance of complex digital payment solutions, parking management systems, and access control, including payments, citations, and collections. With more than 250 projects during the last 7 years, and deployed the PANGO platform to municipalities, universities, airports, property owners, and private operators, helping them to improve their parking management while increasing revenues and their user's experiences, using state-of-the-art technology.

Mobile Smart City offers a cloud-based platform, hosted in the US, who can provide an outstanding customer experience when using digital services, parking, transportation, and access control. Our solutions include mobile parking payments, digital permits, parking enforcement, LPR fast pass & QR access control, muti-space parking meters, pay-in-lane, business intelligence, and a 24/7 customer service.

For more information www.mobilesmart.city or call 1-844-726-4644